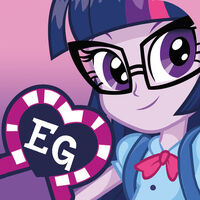 Equestria Girls
is a free-to-play video game for iOS and Android mobile devices published by
Hasbro Inc.
and was released on June 14, 2015.
Gameplay
The gameplay consists of doing tasks for the characters of the series. The tasks are related to one of the films and the app also features the areas of Canterlot High School.
The player can scan a doll's necklace and a zap code included in the Equestria Girls Minis packaging to unlock in-game clothing, gems, and coins.
Mini-games
There are seven mini-games to play with: an archery game, motocross game, roller-skating game, a "Cosmic Battle" game, catch the ingredients game, bracelet-making game, and a DJ-ing game.
Gallery
| | |
| --- | --- |
| | This section should be expanded or updated. You can assist by editing it. |
Usual gameplay
Archery Game
Bracelet-making Game
Cosmic Battle Game
Catch the Ingredients Game
See also
Ad blocker interference detected!
Wikia is a free-to-use site that makes money from advertising. We have a modified experience for viewers using ad blockers

Wikia is not accessible if you've made further modifications. Remove the custom ad blocker rule(s) and the page will load as expected.