The My Little Pony Equestria Girls franchise extends to several Flash, iOS, and Android video games and software.
Equestria Girls
Main article: Equestria Girls (mobile game)
Equestria Girls is a free-to-play app game for iOS and Android mobile devices published by Hasbro Inc. and has been released on June 14, 2015. The gameplay consists of customizing your own avatar, as well as exploring the halls of Canterlot High School by completing friendship quests and get rewards for helping out the Equestria Girls and their friends. The storyline of the game follows the Equestria Girls films in order. Features can be unlocked by spending in-game currency or by purchasing them.
Online games
Hasbro's websites, and to lesser extents other official websites, have various Equestria Girls material, including Flash games from Hasbro.com:
Gallery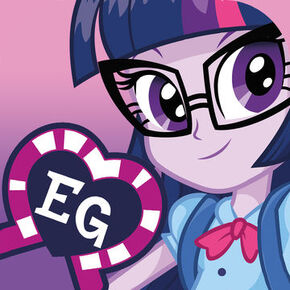 Ad blocker interference detected!
Wikia is a free-to-use site that makes money from advertising. We have a modified experience for viewers using ad blockers

Wikia is not accessible if you've made further modifications. Remove the custom ad blocker rule(s) and the page will load as expected.