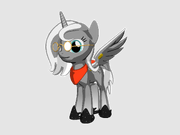 Can you believe it? I created my very first 3D pony OC (3rd OC overall). It's currently post as my profile pic. The pony OC I made was in 3D, and it is maded with using Pony Creator 3D. Also, this OC is an Alicorn! The pony's light shades was using Toon, and the oc was based on T2T(my CYOA story)'s inspired character, Princess Ambrose.
Hope to hear your reaction about my OC!
OC : Daylight Flare (Profile appearance date : 22.04.2016 - 28.04.2016)
Connect link : http://mlp.wikia.com/wiki/User_blog:Choong57/T2T_I_(34)_:_Roadblock,_Part_1
Ad blocker interference detected!
Wikia is a free-to-use site that makes money from advertising. We have a modified experience for viewers using ad blockers

Wikia is not accessible if you've made further modifications. Remove the custom ad blocker rule(s) and the page will load as expected.